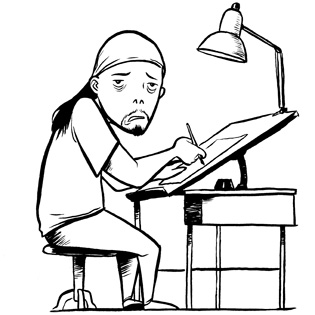 Hi! My name is Jamie Noguchi and I'm a freelance illustrator/cartoonist living in the Washington, DC area (I really live in Rockville, but no one knows where that is except those of us who live here so it's easier to just say DC. Besides, I was born there). I was a professional colorist with UDON Entertainment where my coloring work appeared in books at Marvel, DC, Dark Horse, and Image. I illustrated Book 1 of Erfworld, an online graphic novel which was listed as one of Time magazine's Top 10 Graphic Novels of 2007. Currently, I'm working on my own comics and freelance illustration projects.
I work both traditionally and digitally in a wide variety of styles. I'm most comfortable with character-based work that plays to my storytelling strengths. I also love designing cute creatures that have a slightly dark edge. If you're looking for a character piece or a weird little creature, I'm your guy!
Interviews
I've actually been interviewed a handful of times about my work.